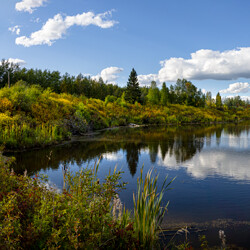 Located just east of Edmonton, Alberta, the UNESCO-designated Beaver Hills Biosphere is a unmistakable landscape in which people are living and working in harmony with nature to inspire a positive future. Biosphere partners work together to champion sustainable economic development, quality of life, ecological sustainability and the rich culture and history of the region.
A Good Fit
Increasing competition for a shrinking pool of resources has non-profits thinking beyond traditional approaches and embracing inventive new ways to get things done. Land Stewardship Centre has woven collaboration with like-minded organizations into the fabric of its daily operations and, together, all involved have become enhanced versions of themselves because of it.
With a shared history and a natural alignment between their respective visions and organizational mandates, Land Stewardship Centre and the Beaver Hills Biosphere have established a strong, strategic partnership that enables more efficient and effective operations and management of both organizations through a shared-services model.