Go back to News Listing
Stewardship Showcase: Inspiring the Stewards of Today and Tomorrow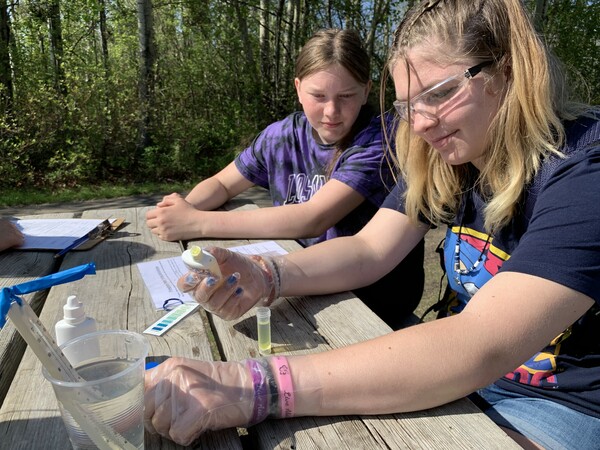 Conversations about stewardship tend to focus on adults but youth have an important role to play, too. This is why, since 1985, Inside Education has been bringing environmental and natural resource education to life for students and teachers. 
"One of the things we really focus on is experiential learning," says Kathryn Wagner, Program Director at Inside Education. "It's a chance for them to get their hands dirty and their feet wet. Getting outside and experiencing the environment and nature makes a huge difference. It makes learning about what stewardship really means stick." 
Land Stewardship Centre's Watershed Stewardship Grant (WSG), made possible by funding from Alberta Environment and Protected Areas, has helped Inside Education offer these experiential learning opportunities by making it easier for students to participate in programming. The programs help students develop a personal connection to watershed protection and stewardship. 
The Watershed Stewardship Grant program has funded several key projects at Inside Education – from student field trips to youth education summits to teacher training – offering opportunities for students to participate in hands-on learning about watersheds, wetlands and conservation.  
"Teachers and students are keen on this information. They want to learn about the connections between water and agriculture, but they need accessible programs," explains Kathryn.
"Funding [from the WSG] went towards busing subsidies to help schools get out to the Three Herons site, and to make our summits no cost for attendees. So, the grant really went towards decreasing barriers for participation." 
The Three Herons field trip is a great example of the impact that the grant has had on connecting students to stewardship. Offered in partnership with Nature Conservancy Canada, this program gets students out in wetlands, connecting Alberta's science curriculum to the real landscapes they live on. 
By helping students learn in a hands-on way, Inside Education is inspiring students to pursue careers in ecology and conservation.  
"At our Navigate: Youth Water and Climate Leadership Summit in 2023, we had a former student who shared how his experience with Inside Education inspired him to go to post-secondary, and now he has a field job with Ducks Unlimited. Because of that, the youth in the audience could see the possibilities for themselves." 
But it's not just about equipping students for the future or discovering possible careers. Inside Education workshops spark an interest in conservation and teach youth the skills they need to take on projects in their own communities and improve the watersheds where they live – right now.  
"We had a school in Hinton that did their own aquatic ecosystem assessment on a creek near their school and then presented their findings to the Athabasca Watershed Council. These programs are empowering that youth voice in stewardship."  
At two student summits, Inside Education hosted students from 39 high schools across Alberta, including five from First Nations and Metis communities. Offering three-day deep dives into Alberta-specific agricultural and water issues, these summits engaged students on another level. Inviting students into the conversation on stewardship and equipping them to continue conservation work in their communities, throughout their lives, means a better future for Alberta – one where the next generation is ready to take on the challenges associated with stewardship.  
"I think water is just such an incredibly vital topic to cover in classrooms. Having opportunities for experiential, high-quality, impactful water education makes a big difference in student learning," Kathryn says.
"There will continue to be a need for education especially and it is one of those resources that will determine the sustainability of everything we do." 
With support from the WSG, Inside Education can continue in its mission to support teachers and inspire students and continue fostering new generations of stewards.