Go back to News Listing
Stewardship Showcase: Friends of Fish Creek Provincial Park Society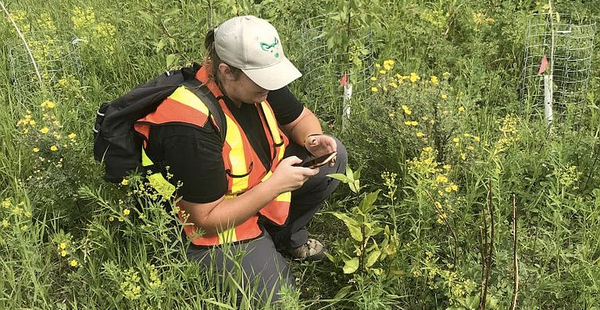 Getting more done with a little help from your 'friends'
Like many nonprofits, Friends of Fish Creek Provincial Park Society accomplishes great things with a small staff and dedicated volunteers. However, it can be hard to achieve all the ambitious goals an organization hopes to accomplish without building capacity, investing in new technology and developing skills with staff and volunteers.
With Watershed Stewardship Grant funding from Land Stewardship Centre in 2020, the Friends were able to add new technology to their ongoing stewardship work. By introducing digital mapping apps, the Friends improved the capacity of their volunteers and staff to measure and track stewardship efforts in the park accurately and deploy their volunteers more efficiently. Employing a new full-time staff member, developing mobile apps and training volunteers in their use, Friends is now more effectively collecting data and monitoring conditions in the watershed in real-time. 
Founded in 1992, Friends of Fish Creek works with the public to conserve Fish Creek Provincial Park, which offers a unique urban oasis for Calgarians. By engaging the public and working with volunteers and embracing technology to help them monitor the health of the park, Friends ensures Fish Creek Provincial Park will be around for generations. 
"The push to move to digital mapping was to ensure that we had more robust data to help us identify what strategies are having an impact," explains Shana Barbour, the Social Enterprise and Stewardship Manager for Friends of Fish Creek.
With the support of the Watershed Stewardship Grant program, Friends has moved its data collection into the digital era. Introducing user-friendly digital apps to their stewardship practice has transformed how Friends monitors and cares for the park. These apps have helped Friends standardize and streamline the way they collect data, from the location of invasive weeds to tracking beaver impacts on trees.
Friends engages volunteers in citizen science to effectively collect data that informs action. With the efficiency offered by digital platforms, Park Watch volunteers can report observations and communicate issues quickly and avoid duplicating the work of other volunteers. What once took weeks to complete with paper and pens now happens instantly, facilitating more effective communication between volunteers and Alberta Environment and Parks (AEP). Problem areas, such as places where invasive weeds have taken hold, are identified and mapped so Friends' Citizen Science and Stewardship Coordinators can prioritize efforts and mobilize volunteers to address problems. By leveraging the technology many people already have in their pockets – a smartphone – the data collected is of higher quality. Staff and AEP can then respond to issues and monitor trends as they emerge.
"It has revolutionized how we approach our environmental stewardship work," adds Barbour.
Dedicated to the stewardship of the park, volunteers are indispensable to the Society's efforts. In addition to participating in data collection, new Weed Watcher and Beaver Coexistence Program volunteers are dispatched to respond to issues based on the digital data they have collected, by pulling weeds and wrapping trees. Volunteers can now work independently without a Friends staff member present, meaning more invasive species are identified and pulled.
By establishing baseline data about the park, the Friends will be able to track the environmental conditions of trees, invasive weeds, riparian restoration sites and other areas of interest for years to come. The Society will continue to monitor these conditions using digital mapping apps and build on their existing stewardship efforts to preserve this vital watershed's natural health and beauty.
"There really isn't any going back to the old paper-based system," says Barbour. "It's changed the way we work as an organization and the Grant helped us achieve this."