Go back to News Listing
Stewardship and Staycations: A boost for your acreage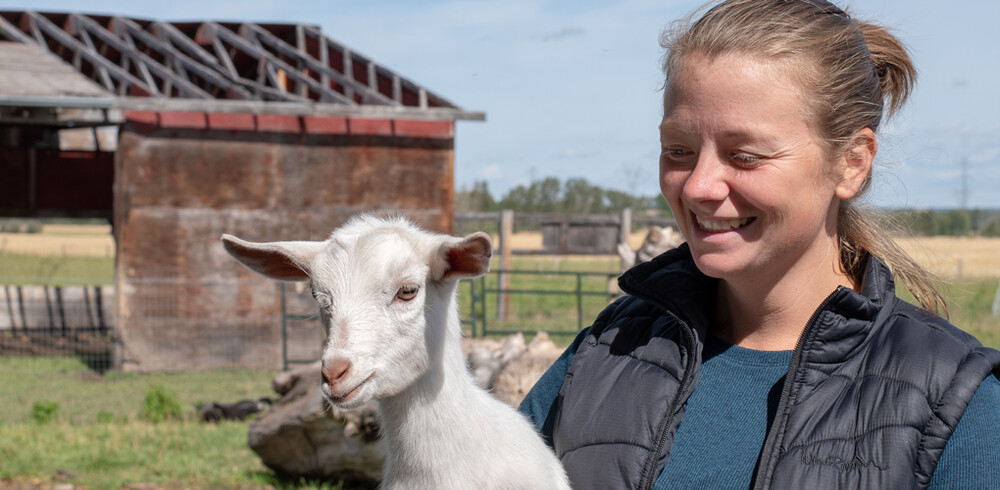 Staycations during the pandemic can lead to big stewardship results on your acreage.
Since the pandemic began many of us are spending more time at home, investing our time, energy and money into our homes and properties. Green Acreages Coordinator, Milena McWatt, spoke with a few acreage owners about what this means for them and their acreages, how it impacts stewardship and how the Green Acreages Program can help.
Terry Krause and Elizabeth Simpson, Red Deer County
After living in the city, Terry Krause and his wife, Elizabeth Simpson, decided to move to the country to get into environmentally friendly household food production. Wilderness was a big part of his youth and he still can't live without nature in his day-to-day life.
Terry, who has a background in ecology, purchased his Red Deer County acreage in 2007 and began working in earnest on the land in 2008. He participated in the Green Acreages Program and used the Green Acreages Guide workbook to support his plans for transforming his property into a healthy, natural oasis. The Green Acreages Guide helped Terry develop and reinforce his vision for the acreage transformation. He was excited when he saw it and believes it is just what people without any experience in owning an acreage or with any special experience in ecology or biology need to become better stewards of their properties.
Originally, the 2.5 acres were covered with quack grass, timothy and Canada thistle. Terry removed this undesirable vegetation and rehabilitated the soil before planting a lawn of slow-growing fescue grass. He now only mows his lawn three times per year.
Terry and Elizabeth are also interested in food production, so they established a huge vegetable garden and planted 1000 trees and shrubs (45 different species). The garden was designed to create a diverse ecosystem that supports wildlife and helps to mitigate the risk of flooding and drought on the property. They also used nature-scaping throughout the acreage to attract wildlife and to provide blooms from spring through fall to support pollinators. Since transforming their acreage, the Krauses have observed 105 different species of birds alone on the property.
When asked how the pandemic had impacted his relationship with his acreage, Terry replies, "Can you imagine living in the city during this pandemic? This is our sanctuary and refuge. It is phenomenal to be surrounded by nature during this time."
Terry adds he and his wife are content on their acreage and don't feel like they are missing out by not going anywhere since COVID-19 hit. Life on his acreage has allowed him to thrive spiritually and keep physically active while working on the property. He also credits watching the birds and wildlife on his property with supporting their mental health during these unprecedented times.
Terry offers some good advice for new acreage owners or those who are new to stewardship. Start small, take baby steps and seek a mentor who has done it already. He suggests starting with a few islands of mixed native trees and shrubs, which are low maintenance once they are established.
A recipient of the Blue Skies Award Terry has a lot to be proud of with regards to his property. For him, being in tune with nature and providing habitat has left him with a phenomenal sense of contentment and a feeling of being grounded. Visitors never want to leave, and he isn't either.
Vanessa and Jeff Sigurdson, Red Deer County
Joined by Ken Lewis, Conservation Coordinator for Red Deer County, Milena also visited with Vanessa and Jeff Sigurdson. Vanessa and Jeff became Red Deer County acreage owners about four years ago, in a move that brought them closer to Vanessa's parents and back in touch with the land after living in the United States for several years.
As newer acreage owners, Vanessa and Jeff said that the Green Acreages workshop and the Green Acreages Guide workbook have been very educational and informative. Participating in Land Stewardship Centre's Green Acreages Program has given them new ideas and concepts, and a strong foundation to start planning stewardship initiatives on their acreage. They also benefited from practical advice and resources available through Red Deer County.
The pandemic has allowed them to save money that would otherwise be spent on things like vacations and which they are now earmarking to do some stewardship projects to improve their property. Looking ahead to a spring, summer and fall of 2021 filled with 'staycation time', Vanessa and Jeff are most excited to plant an eco-buffer of trees and shrubs to shelter their property from wind, mitigate flooding and drought, and make the acreage more inviting. They are also exploring the idea of creating a rain garden or bioswale to manage flooding on their acreage and intend to apply for Green Acreages funding to help them on their stewardship journey.
Funding support for acreage owners
With support from Alberta Environment and Protected Areas' Watershed Resiliency and Restoration Program, for the first time ever, LSC can offer funding for acreage owners. This exciting new addition to the Green Acreages Program provides funding (50:50 cost share up to $2500 per project) to acreage owners across Alberta to help them implement initiatives that enhance natural watershed function and reduce the impacts of flooding and drought.
Eligible projects include:
Wetland enhancements, such as enhancing riparian and upland vegetation associated with wetlands.
Stormwater management, such as erosion controls, planting vegetation, wetland enhancements or construction, hydrologic function enhancement for the watershed (may include planting, contouring, wetland construction), floodplain restoration, low-impact developments (such as rain gardens and bioswales).
Riparian zone enhancements using planting and buffers.
Shoreline remediation and/or re-naturalization, such as planting native species, reinforcing shoreline through soil bioengineering and other natural methods.
Erosion reduction measures (e.g., shoreline or riparian naturalization with native plants, establishing a buffer of native plants between landscaped areas and bodies of water, and re-establishment of shorelines through soil bioengineering and other natural methods).
Exclusion fencing, off-site watering systems and stream crossings (e.g., to keep livestock out of water bodies and away from riparian areas)
With any of these projects, LSC encourages use of native species in planting initiatives.
Learn more online about the Green Acreages Program, including program details and how to apply online and kickstart a project on your acreage during your 'staycation'. You are also encouraged to connect with Milena McWatt, Green Acreages Program Coordinator at milena@landstewardship.org.