Go back to News Listing
Meet Our Newest Team Member, Pamela Billey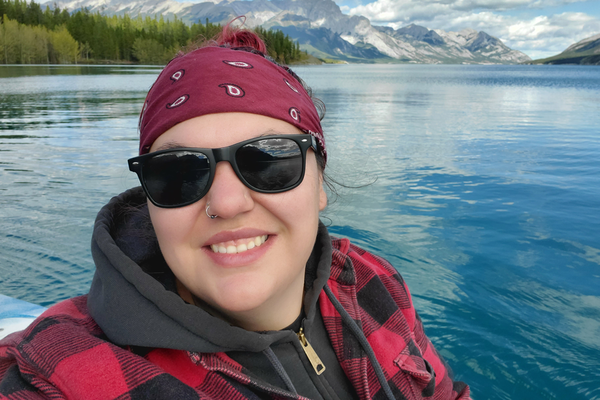 As the newest Land Stewardship Centre (LSC) team member, Pamela Billey brings a wealth of experience to the Outreach and Engagement portfolio at LSC.
Growing up in Smoky Lake, Pamela developed a lifelong passion for the outdoors. She spent her childhood playing outside with her two younger sisters, inventing games and discovering a deep love for nature.
Pamela's Metis and Ukrainian heritage are important to her and have informed her love of nature. Staying connected to the land through farming, fishing, hunting and gardening is all part of her childhood, and the values learned from both sides of her heritage. Descended from Ukrainian homesteaders, her family's farm has been in their family for 117 years.
"​​It's fascinating because I have two different cultures," Pamela said. "I'm Ukrainian and Metis, and it's cool how those two cultures have grown parallel to each other. They're totally different, but there's a place where we connect."
When you talk to Pamela, her passion for everything she does is evident. She talks excitedly about racing (she works in a pit crew part-time!), backcountry camping and kayaking.
"If there's a body of water, I'm on it," she added. Any excuse to get outdoors, she's there.
Aside from the outdoors, Pamela's passion is connecting with people. She loves the opportunity her job gives her to meet with a variety of people and share her love for the environment with others.
After studying Environmental and Resource Management at the University of Alberta Augustana, Pamela's work has taken her through different sectors, from nonprofits to oil and gas companies, working in parks, channelling her passion for nature into careers as an environmental analyst to working as a natural resource officer. Her passion for stewardship and curiosity about the Beaver Hills Biosphere and its work led her to apply to work with the Land Stewardship Centre.
Pamela brings an incredible breadth of experience and passion to this work. With her childhood, education, career background, passion for stewardship and connecting with people, this is the job she was born to do.
"I love connecting with people, so this role is really perfect for me. I love connecting with people and connecting them with nature," added Pamela.