Go back to News Listing
Meet a Board Member: Brenda Gheran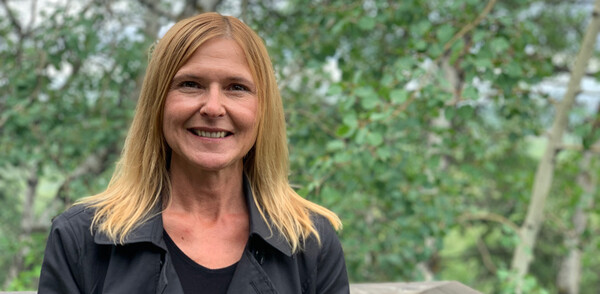 Get to know the people behind
LSC
Successful organizations don't just happen – they are created, nurtured and guided by people. Land Stewardship Centre (LSC) is fortunate to have a strategic, innovative and forward-thinking Board of Directors that positions us as a leader in the field of environmental stewardship. Today, we introduce you to another committed individual who is part of the team that governs the organization. Meet one of our newest board members, Brenda Gheran.
Growing up as a northern Alberta farm kid, spending time outdoors both influenced and intrigued Brenda.
"Being outside, going camping – it all helped to instill in me an appreciation of the value and beauty of nature and what we as individuals can do to protect it," shares Brenda.
With a formal education from MacEwan's Advertising and Public Relations and the University of Alberta Extension Human Resources programs, Brenda's passion for nature has remained a constant throughout her career. She has worked in several sectors including forestry, petrochemical and municipal government, including working with the Alberta Water Council, the Clean Air Strategic Alliance and individual airshed groups.
Brenda's continued work in the public safety/emergency management space has raised her level of awareness of the important role risk-based land use planning plays in mitigating the effects of flooding and wildfires and working with nature to prevent disasters.
In 2018, Brenda fused her communications and stakeholder relations experience with her passion for stewardship and was appointed to the LSC board of directors. She recognized a natural alignment with LSC's mandate and her own personal philosophies on achieving balance while realizing efficiencies through collaboration.
"It is rewarding to know and work with people who are thinking and doing something about stewarding the land," she explains. "I see it as contributing to a worthy legacy for our next generation."
During her time on the board, Brenda has contributed directly to organizational awareness efforts and fostering connections with stakeholders to create strategic partnerships and explore fund development opportunities.
Among the many benefits of volunteering, Brenda says the opportunities to expand her knowledge and network, as well as develop skillsets have made her value her board experience. In addition, contributing to an organization that serves the greater good, simply feels good. And to any young professional considering lending their time to a worthwhile organization, Brenda says go for it.
"I've volunteered my whole life and have never regretted a single moment of it," she adds. "Volunteering is a great way to gain experience, be introduced to new people, new ideas and have fun while giving back."
Learn more about LSC's Board of Directors.