Go back to News Listing
If You Build It They Will Come: Constructing Wetlands for Biodiversity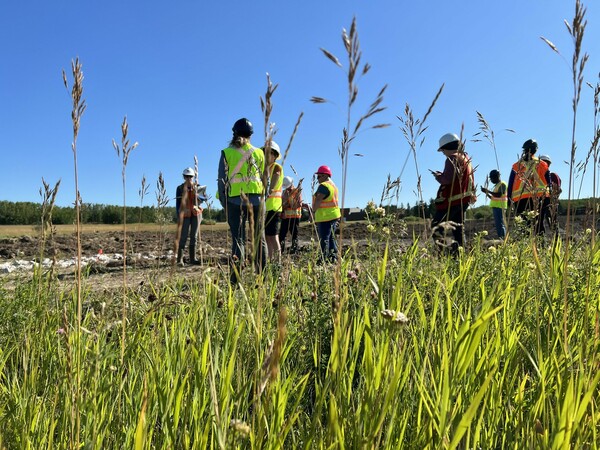 Wetland restoration has a special place in Milena McWatt's heart. Growing up in Northern Alberta, Milena loved playing in the mossy peatlands on her family's property, a love and appreciation she now shares through her work.
Through a course at the University of Alberta Faculty of Extension, she recently got local, hands-on experience in how to design, implement and build wetlands. It is valuable experience and knowledge of the importance of wetlands she now gets to pass on through her work with Land Stewardship Centre's Green Acreages and Green Communities programs. 
For Milena, who has an academic background in resource and environmental management, what she learned at this course will help deepen her impact and enhance support for property owners who may wish to build or restore wetlands on their own properties. 
"I'm really excited to share the things I learned about wetland design and construction," says Milena. "I could talk about wetlands all day."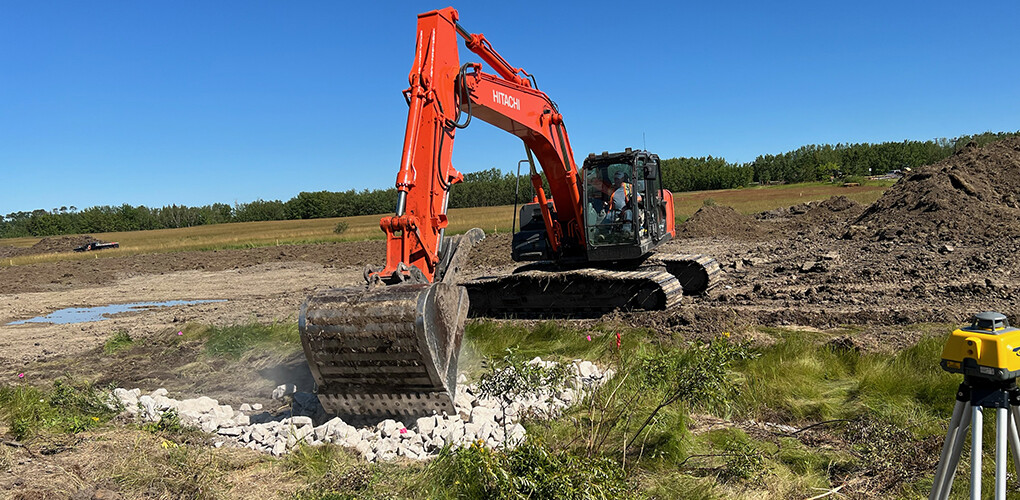 The week-long course, which included online classes and field days, covered topics from site selection to working with heavy equipment operators. Field days were spent establishing a wetlands complex on the Uncas Elementary School grounds in Strathcona County. Participants also conducted wetland monitoring in Strathcona County and a wetland maintenance inspection in Leduc County.
Although the project at Uncas was large-scale, the technical and practical knowledge Milena added to her toolbox will help her work with landowners in the Green Acreages program. 
"Wetlands are so important to our lives and our ecosystems," explains Milena. "I'm interested in this work on a personal and professional level, but especially in the context of the Green Acreages program."
Through the Green Acreages program, landowners can access valuable information and cost-share funding to support them in restoring and building wetlands, which have countless benefits for both landowners and the environment. Wetlands foster resilience in the watershed and increase biodiversity. From attracting wildlife to protecting against drought and flooding, wetlands add value to acreages and provide ecosystem services to the land and those who live on it. 
The course's instructor, Kristen Andersen, is a wetland scientist and restoration ecologist. Andersen also puts her expertise to use working with landowners as a consultant, helping them design and construct wetlands on their property.  
"If you build it, they will come," says Milena, quoting Andersen, referring to how wetlands attract a variety of wildlife, increasing a property's biodiversity and enriching the land. After visiting wetlands constructed last year, Milena saw the direct impacts of these projects first hand. 
"They were highly naturalized. One of the reconstructed wetlands we visited was just teeming with tiny frogs and toads," explains Milena. 
Knowing where to start with the restoration or construction and design process can be a barrier for landowners who want to increase biodiversity on their property and mitigate the impacts of flooding and/or drought. Now, Milena has the understanding and connections to help landowners get started, whether sharing her knowledge or connecting landowners with consultants like Kristen Andersen. Landowners who receive funding through the Green Acreages program can use their funding towards consultation costs as part of their project budgets. 
Beyond professional development, the course also offered Milena a glimpse into the future of restoration and the possibilities it opens for different types of wetlands. She learned that the restoration of peatlands is particularly important in Alberta, where they make up 93% of wetlands. Peatlands also sequester 25% of all carbon, more than forests worldwide, so they are critically important for climate. 
"Because I'm from Northern Alberta, peatlands hold a special place in my heart," adds Milena. "There has been a lot of success restoring mosses to certain types of superficial disturbances in peatlands and it's exciting to be able to restore these peatlands affordably." 
Through knowledge sharing and the funding available through Green Acreages, Milena is empowering acreage owners to do the valuable work of investing in their properties and in the earth through stewardship practices. 
When asked why it's important, Milena adds:
"Nature has a way of coming back. It's resilient. Ecosystems can recover if we implement a few tools and techniques properly. And they can continue to provide the ecosystem services that we all rely on." 
From wetlands to wildlife habitat and much more, learn what Green Acreages can do for you and get started on your own stewardship project today.