Go back to News Listing
Their Commitment to Stewardship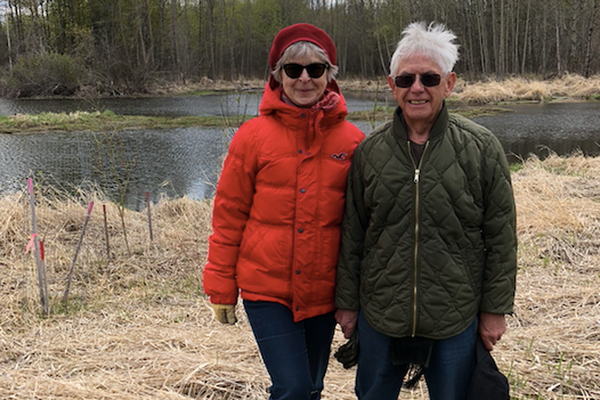 For Lucien Royer and Judith Basisty, participating in the Green Acreages program has been an important step towards their goal of helping to mitigate climate change and making their property more climate resilient.
Thanks to support from Land Stewardship Centre's Green Acreages program and funding from Alberta's Watershed Resiliency and Restoration Program, Lucien and Judith were able to complete a wetland restoration project on their acreage. Owners of acreages, hobby farms and recreational properties across Alberta are eligible to take part in the Green Acreages program, to support stewardship efforts on their land and contribute to positive cumulative effects that the ecosystem services associated with the valuable natural assets on their property provide. 
Situated in Alberta's Beaver Hills moraine, with its distinct knob and kettle terrain, Lucien's and Judith's acreage has an important wetland on it so they focused on riparian and wetland restoration and enhancing the natural watershed function on their property. Their project also included testing different types of trees and grasses to determine what would work best in the existing conditions on their property.
Planting trees can be a good first step to enhancing riparian areas and mitigating the effects of climate change but, as Lucien points out, landowners don't always know what species to plant or what will be appropriate on their property. Green Acreages provided them with the information they needed to experiment with different plants and solutions in the critical wetland areas. Armed with this new knowledge, they also expanded their native plant garden to promote the growth of native species on their land and in the area. He adds that the project also increased biodiversity in the area. 
Their commitment to stewardship on their acreage is impressive and when asked why they focused on wetland restoration, Royer replies,
"Deterioration of wetlands is a local and global problem and involving landowners is a crucial part of the solution." 
For Lucien, investing in restoration has always been important and they had big ideas they wanted to put into practice. The Green Acreages resources helped him design, budget and implement the kinds of projects he already had in mind. Lucien admits that receiving funding for the project through Green Acreages also made them think through things differently, think about investing money wisely, and that's an important exercise to go through as a landowner. 
"The Green Acreages Guide not only provided useful information, it helped me to shape and conceptualize the restoration on our property," explains Lucien. 
According to Lucien, another benefit of Green Acreages has been its connections to both land and people. And, as the Executive Director of the Global Foundation for Social Harmony & Sustainable Development (GFoundation), he has also encouraged others to take advantage of the Green Acreages program. 
"Being part of Green Acreages situates you in a community of people. You aren't alone in this," Royer adds. "If someone on an acreage wants to improve things on their property and they don't know where to start, the Green Acreages program is a good first step."
Learn more about the Green Acreages program resources and the funding support available for eligible stewardship initiatives.
Comments
This is wonderful to hear about this Green Acreages project with Lucien Royer and Judith Basisty! It reminds me of how we have been working on our own Beaver Garden project - as a way of bringing attention to beavers and beaver-influenced landscape: on July 16th we had some 100 people here to witness "beavers as creators" in their own right with an artful installation setting in and around the beaver area on Stoney Creek including: - an 8x8 foot image of "Beaver Garden" a painting by Canadian painter Mike Svob - beaver artifacts (chewed logs) - a large poetry installation entitled "Love My Beaver Garden" with poetry reading - chairs for observation and listening. It is encouraging to see so many good projects emerging. Jane Ross
Land Stewardship Centre
Posted
Thank you for your comments and for sharing your own story of stewardship, Jane.