Imrie House became home to Land Stewardship Centre in the late 1990's. As an organization dedicated to enabling people and organizations to become better stewards, the legacy of Imrie House could not be better suited to supporting our mission. Experience the history of Imrie House and the unique natural environment in which the house is located. 
An Enduring Legacy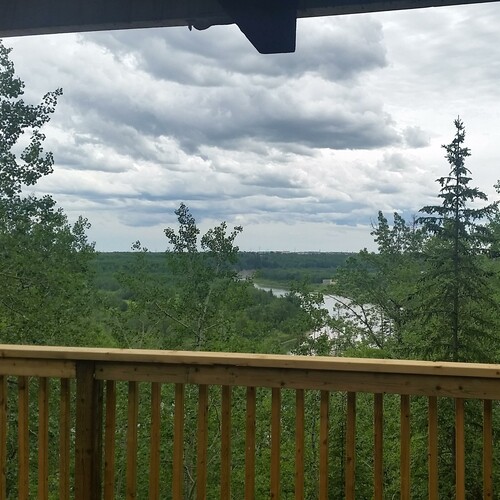 Six Acres (now known as Imire House) was designed and built in 1957 by architects Mary Louise Imrie and Jean Wallbridge, who were partners in Canada's first all-female architectural firm. Six Acres served both as home and office for Mary and Jean, and their firm Wallbridge & Imrie Architects, for many years. The property is uniquely located in west Edmonton on the picturesque banks of the North Saskatchewan River.
Upon her passing in 1988, Mary Imrie left a large bequest, which included Six Acres, to the Province of Alberta for conservation purposes. Her intention was that the land and the home be used and enjoyed by the people of Alberta. Renamed Imrie House, the home and property stands as a testament to their conscientious design philosophy, a strong appreciation for the natural environment and a love for the Alberta landscape, which Mary and Jean built upon throughout their architectural careers and their lives. Imrie's and Wallbridge's home and their legacy deserves to be recognized and enjoyed by the broader community.
A Place Worth Sharing
There are few places like Imrie House, that represents and respects the architecture of a by-gone era and which is located in a stunning natural setting which preserves the natural landscape once so common in Edmonton. As the long-time tenant and caretaker of Imrie House, Land Stewardship Centre has harnessed the uniqueness of the property and created something that directly supports Alberta's volunteer and non-profit community by transforming the Imrie House garage into a functional meeting space.
Making this new meeting space available at no cost helps meet a significant need of non-profit organizations and groups with limited financial means. This also enables volunteer and grassroots groups, community associations and clubs to experience the history of Imrie House and the unique natural environment in which the house is located. Naturalist clubs, stewardship groups, community associations, art and culture clubs, architectural and history societies, social enterprises and support organizations – groups and organizations from across all sectors – can benefit from this new space.
Students of all ages and teachers could utilize the meeting space to learn directly and in an interactive way about ecology and botany, and architecture.
Naturalist activities such as bird watching, forest exploration, plant identification, etc. could be conducted in the natural setting of Six Acres.
The meeting space is perfect for art classes such as photography, painting, drawing.
Interested in booking Imrie House for your group's next meeting or event? Subject to any current provincial health restrictions, Imrie House is available to non-profits and community groups to use for meetings and gatherings. Bookings are typically accommodated Monday through Friday, during regular business hours. Depending on staff availability, we may be also able to accommodate limited weekday evening bookings. An Imrie House meeting room booking includes:
Executive-style chairs and boardroom table that seats up to 12 comfortably
Whiteboard, boardroom phone and 60" Smart TV
Complimentary wireless internet
Ability to bring in your caterer of choice
Full kitchen with dishes, cutlery and glassware
Bright natural light and stunning views of the North Saskatchewan River and natural river valley landscape
Users are responsible for tidying up, and for washing any supplied dishes, cutlery and glassware that may be used. There is limited on-site parking (enough to accommodate up to 6 or 7 vehicles). Additional parking is available on-street on Donsdale Drive.
Contact us to book this unique place for your group's next meeting, workshop or small social gathering. There is no charge to rent the meeting room, but as a charitable, non-profit organization Land Stewardship Centre accepts donations from organizations that are using the space may wish to contribute to our operation and management of Imrie House.
Special Thanks
We are grateful to Alberta Culture and Tourism for contributing funding to help renovate the garage into a purposeful meeting space. Through this financial contribution, the Government of Alberta has demonstrated their shared value for Imrie House and this project.
Imrie House
Experience the history of Imrie House and the unique natural environment in which the house is located.